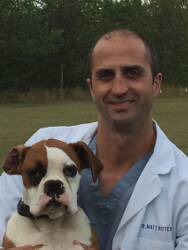 Dr. Ritter provides advanced orthopedic surgery to our patients without you having to travel a long distance for excellent care. Dr. Ritter enjoys performing a range of surgical procedures, including orthopedic procedures like the TPLO knee surgery (and has performed over 3500 of them!), fractures, as well as other challenging soft tissue and oncologic surgeries.
We will schedule your pets advanced surgical procedure with him directly and you can bring your pet to Central Providence Veterinary Hospital for the procedure and follow-up.
Contact us today to learn more about orthopedic surgery for your pet!