Dr. Cierra Tabony
DVM, CCRT (Rehabilitation Therapy), CVA (Acupuncture)
Owner / Administrator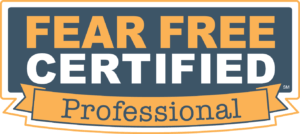 Dr. Cierra Tabony has been practicing veterinary medicine for almost 20 years and came to know Dr. Booker during her time as a relief veterinarian. She was honored that Dr. Booker contacted her to continue his legacy at Central Providence Veterinary Hospital. As a lifelong learner, she has a large breadth of knowledge and experience. She was honored to be voted one of Charlotte's top vets by her colleagues. While she enjoys all aspects of veterinary medicine preventative healthcare has become her passion. Acupuncture and TCVM (Traditional Chinese Veterinary Medicine) are also in her toolbox of knowledge and can help both prevent as well as treat disease. Dr. Tabony is a member of the AVMA (American Veterinary Medical Association), NCVMA (North Carolina Veterinary Medical Association), AAFP (American Association of Feline Practitioners, IVAPM (International Veterinary Academy of Pain Management), and the AARV (American Association of Rehabilitation Veterinarians) as well as IVAS (International Veterinary Acupuncture Society). She is a Fear Free Certified Professional and owner of Indian Trail Animal Hospital since 2011 and Vet-REC: Veterinary Rehabilitation and Exercise Clinic since 2013. When she isn't burning the candle at both ends to improve her skills and businesses, her interests include hiking, horseback riding, mountain biking, theater and yoga. She and her husband, Hunter, are also the proud parents of two children and two rescue dogs.
---
Medical Director
Dr. Kristen Bamonte had the privilege of growing up as an "Army Brat", moving all around the country. She stayed in Kansas to obtain her undergraduate and veterinary degree from Kansas State University. After graduating, she followed her family to the East coast and chose Charlotte, North Carolina as her home. She has since put down roots and has been providing veterinary care for Charlotte families since 2005. Her professional interests include geriatric care, pain management, internal medicine, preventive medicine and wellness care. When Dr. Bamonte is not working she is enjoying time with her husband and two young, crazy kids. She also enjoys traveling, following the local "foodie" scene and reading.
---
Dr. Catherine Newman
DVM, CCRT (Rehabilitation Therapy), CVA (Acupuncture pending)
Veterinarian
Dr. Catherine Newman was born and raised in Maryland and lived there prior to going to Virginia Tech, where she earned her B.S in Animal Science. She then went on to Ross University to earn her DVM in 2012. Dr. Newman did a year of clinicals at Oklahoma State University. Following graduation in 2012, Dr. Newman practiced in a wide variety of settings from a mixed animal practice in rural Virginia to emergency practice and general practice in North Carolina. She has special interests in geriatric patient care and rehabilitation for pets. In her free time, Dr. Newman enjoys being out on the lake or hiking in the mountains. She has 3 cats and 2 dogs. If you see her out, it's very likely that her dogs will be in tow. Dr. Newman cherishes her time with her family and friends! She looks forward to creating a lasting bond with her patients and their owners.
---
Veterinarian **Joining Summer 2023**
Dr. Taylor Krupp was born and raised in St. Louis, Missouri. She went to Maryville University in St. Louis where she earned her B.S. in Biology before attending the University of Missouri School of Veterinary Medicine. Dr. Krupp graduated with her DVM in May of 2023 and moved to Charlotte for its proximity to the mountains and the beach. Her veterinary interests include geriatric patient care and rehabilitation. In her free time, Dr. Krupp enjoys hiking with her dog and checking out new coffee spots.
---
Dr. Matt Ritter
Consulting Veterinary Surgeon
Dr. Matt Ritter attended Iowa State University for veterinary school. He then completed an internship in medicine and surgery at the University of Pennsylvania and a residency in surgery at Michigan State University. Dr. Ritter became a diplomate of the American College of Veterinary Surgeons in January 2007 (Dipl. ACVS). Dr. Ritter owns Acacia Mobile Veterinary Surgery as well as Bedrock Veterinary Specialists and provides assistance to our veterinary team with advanced surgical cases like TPLO, tibial plateau leveling osteotomy, for cruciate disease and fracture repairs.
---